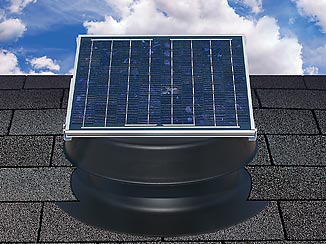 What is the DIY SolarAtticFan?
DIY SolarAtticFan is an eco-friendly attic venting system that operates on free solar energy. The compact unit is quiet and fully operational right from the box. Installation is quick with no electrical wiring, no expensive electrician, and no city permits. Proper venting reduces heat build-up on roof shingles and underlayment extending the life of your roof. Once installed, the DIY SolarAtticFan requires no maintenance and has a 25-year product warranty.
How the DIY SolarAtticFan Works
The 20 watt solar panel captures sunlight and converts it into electricity to power the fan motor. The DIY SolarAtticFan works in conjunction with your existing passive vents (soffit, ridge or louvre) to pull hot air and moisture out of your attic. Keeping your attic ventilated extends the life of your roof, reduces vapor build-up and prevents mold growth. In the summer, it helps keep your attic cooler reducing your air conditioning costs. In the winter, it prevents ice damming. The DIY SolarAtticFan vents up to 2,000 sq. ft - operating for free using the sun's energy!
Streamlined Design
The DIY SolarAtticFan has been designed with curb-appeal in mind. The low profile unit blends seamlessly into your roof line.
DIY SolarAtticFan Features
Solar Powered Attic Venting
Extends the life of roof by removing heat and moisture, saves on electric bills
20 Watt Solar Panel
Fully vents up to 2,000 square feet (up to 1,275 cfms)
Heavy-Duty Aluminum Parts
Seamless aluminum fan housing and flashing, durable and weather-tight
Quick & Simple Installation
Unit is fully assembled, needs no wiring, installs in less than an hour
Fits Flat and Pitched Roofs
Pivoting solar panel adjusts to all slopes for optimum performance
Operate for Free
Solar powered motor runs smoothly and quietly with a 25-year product warranty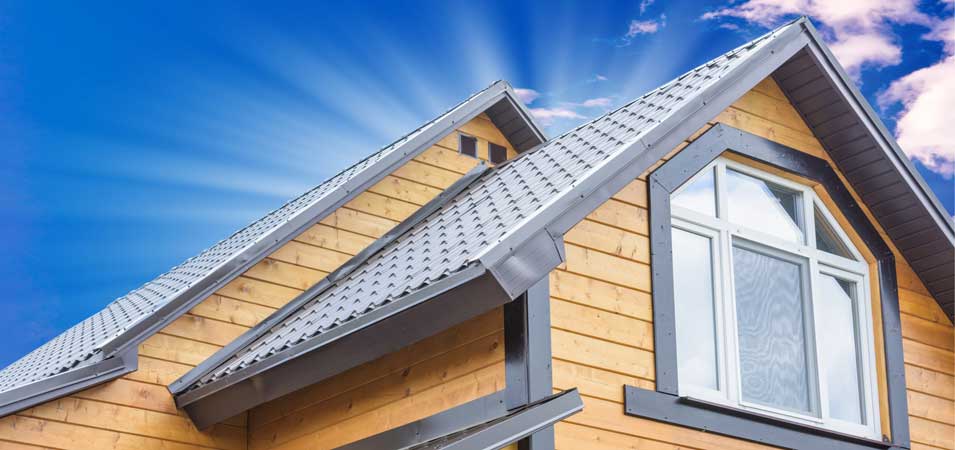 DIY SolarAtticFan Is Perfect For
Homes
Garage
Lofts
Workshops
Storage Sheds
Barns
ANY SPACE THAT CAN BENEFIT FROM ADDED CIRCULATION!
A Green Home Product
SolarAtticFan is an energy saving product that qualifies for tax credits

DIY SolarAtticFan Thermal Switch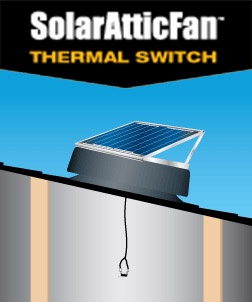 The thermal switch will automatically turn ON the fan motor of the DIY Solar Attic Fan when the temperature in the attic reaches approximately 80°F. It will turn OFF the motor when the temperature reaches 70°F. The thermal switch is very easy to install.